Browser Videogame Rescue in the City
Rescue in the City, is an interactive web video game designed for kids to learn about the importance of heroism and helping others in an educational way. Players become firefighters and emergency helpers, navigating a cartoon 3D city to rescue people in challenging situations. With engaging gameplay, kid-friendly language, and inspiring stories, the game promotes teamwork, courage, and empathy. Through interactive timelines and simple facts, kids gain a deeper understanding of the positive actions that occurred during a significant event. Accessible post-game resources allow further exploration of these concepts, making "Rescue in the City" a game that combines entertainment and education for young players.
WEB BROWSER VIDEOGAME CREATION
An Educational Web Video Game Depicting the Courage of First Responders on 9/11
The game is set in a virtual representation of New York City on the morning of September 11, 2001. Players assume the roles of brave firefighters and compassionate emergency medical technicians (EMTs). Their mission is to rescue as many people as possible amidst the chaos and destruction caused by the events of that day.
Elevate Your Game Development
Collaborate with Our Leading Video Game Studio for Extraordinary Interactive Experiences.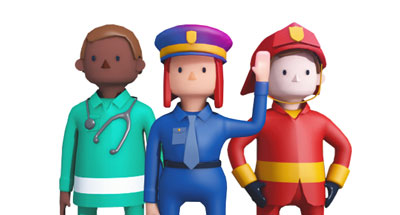 web videogame development
Welcome to In Applications Studio, the premier augmented Reality and inmersive media studio. Join us, together, we can make the impossible, possible.